Plast Ukrainian Scouting Organisation in Great Britain [Пласт – Українська Скавтська Організація у Великій Британії] – a youth organisation which promotes Ukrainian identity and patriotism among its members, embodying the principles of the international scouting movement but with Ukrainian characteristics. A constituent part of the worldwide Plast organisation (see below).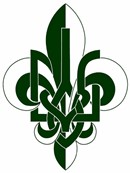 In 1929 a Plast group existed for a short time in Manchester. It was formed after a number of Ukrainians from Manchester met several Plast members from Transcarpathia taking part in a World Scout Jamboree near Birkenhead (north-west England). After the Second World War, among the Ukrainian European Volunteer Workers who began to arrive in the United Kingdom in 1947 were members of the Plast organisation founded in 1945 in Germany. In mid-1947 they began to form Plast groups in some of the camps and hostels in which post-war Ukrainian immigrants in the UK initially lived. Plast in Great Britain (Plast-GB) began to be organised in 1947-1948 by the Central Plast Executive's authorised representatives for Great Britain, Tadeusz Atamaniuk and, subsequently, Cecylia Palijiw. The first gatherings of Plast members from around the country were held in 1948 in London and Manchester, and the first Plast-GB executive was elected at a meeting in Bradford in June 1949.
Under the rules of the international boy scout and girl guide organisations, Plast-GB could not officially exist as a Ukrainian scouting organisation separate from the British scouts and guides associations. Until 1975, therefore, it was called the Plast – K.W.O.M. Society in Great Britain (an allusion to the name Komisiia Vykhovnykh Osel i Mandrivok Molodi under which the clandestine Plast in Galicia organised camps in the 1930s). It was renamed Plast Ukrainian Youth Organisation in Great Britain in 1975, and Plast Ukrainian Scouting Organisation in Great Britain in the late 2000s.
From the end of the 1940s Plast-GB branches began to be formed in towns and cities with large Ukrainian communities, and by the 1960s their number had grown to seven: in Bradford, Derby, Leicester, London, Manchester, Nottingham, Wolverhampton. Branch activities were based at local premises of the Association of Ukrainians in Great Britain (AUGB), the Federation of Ukrainians in Great Britain, or the Ukrainian Catholic Church in Great Britain (UCC-GB). In most of the branches practical assistance was provided by local support groups, known by the name Plastpryiat and comprising parents of Plast members and other friends of the organisation. With the exception of the Manchester branch, from the end of the 1990s all the other branches gradually became inactive. In 2005 the London branch was reactivated, as was the Nottingham branch in 2017. The London branch is a member of the Scout Association.
Members of Plast-GB are divided into five age categories: 3 to 6-year-olds (ptasheniata), 7 to 12-year-olds (novatstvo), 12 to 18-year-olds (yunatstvo), 18 to 35-year-olds (starshi plastuny) and senior members (over 35). In 1950 Plast-GB had about 90 members of various ages. Subsequently the membership began to include British-born children of the post-war immigrants. The number of members reached a peak of about 250 in the late 1960s. There were about 100 active members in 2000, and 130 in 2018. The membership consists mainly of descendants of post-war immigrants, though in recent years some children of post-1991 immigrants from Ukraine have joined the organisation, especially in Manchester and London.
Regular meetings of younger members, involving instruction in scouting ideals and skills and Ukrainian history and culture, were held at all the branches until the 1990s and continue to be held at the remaining active branches. At some branches choirs or folk dance groups were active intermittently and performed before Ukrainian and other audiences. Most notable was the Derby-based Chuprynka dance ensemble (leader – Martyn Nazaruk), which existed for 10 years in the 1970s-1980s. The Verkhovyna dance group in Manchester (leader – Maria Babych) has been active at intervals for many years. In 1969 the conductor Jaroslaw Babuniak formed a choir of Plast members from the whole of the UK which took part in several concerts around the country to mark the 20th anniversary of the establishment of Plast-GB. A similar choir conducted by Jaroslaw Babuniak gave concerts in 1972 on the 60th anniversary of the founding of Plast. This choir also appeared on television and, in 1973, produced a gramophone record entitled Plast spivaie. In 1999 a choir formed of Plast-GB members (conductor – Stefan Moroz) gave a series of concerts together with the Verkhovyna dance group to mark the 50th anniversary of Plast-GB.
Since 1950 Plast-GB has run annual educational and recreational summer camps. Until 1965 the camps were held at the AUGB's Sydenhurst residential home in Surrey, at a property in North Wales which belonged to the UCC-GB (1957, 1959), and at Garendon Hall near Loughborough (1960-1964). In 1965 Plast-GB acquired the Verkhovyna camp site in North Wales, and camps have been held there since 1966. Occasionally Plast members from other countries, including from Ukraine in recent years, have taken part in the camps at Verkhovyna. Plast-GB members also occasionally attend camps in other countries and in international Plast meetings, and in the past have taken part in world scout jamborees (1957 in Sutton Coldfield, England; 1963 in Marathon, Greece) and in international scout camps in the grounds of Chatsworth House in Derbyshire (1965, 1974, 1980).
For a short time in the early 1950s Plast-GB published two magazines for its younger members, Novatska Vistka and Zelenyi Klyn. From 1954 to 2005 a Plast page appeared in the Ukrainska Dumka newspaper: on a broadly monthly basis in 1954-1959 and 1967-1979, and less regularly from 1980. After 2005 occasional articles on the activities of the organisation appeared in the newspaper. Between 1973 and 1982 a monthly Plast-GB news bulletin, Visti – Plastovyi visnyk, was produced. In 1999 a book about Plast-GB was published to mark the organisation's 50th anniversary, and a 20-minute video featuring aspects of the organisation's history was produced in 2012.
Plast-GB has been chaired by: Cecylia Palijiw (1948-1950), Mykhailo Buchok (1950-1952), Alexander Martschenko (1952-1956, 1958-1959), Anna Herasymowycz (1956-1957, 1959-1971), Jaroslaw Iwanyckyj (1971-1977), Oksana Paraszczak (1977-1990), Mykola Popowych-Nazaruk (1990-2006), Tamara Burton (2006-2010), Maria Babych (2010-2020), Oksana Litynska (2021- ).
Plast
Plast was founded in 1911-1912 in Lviv and was active initially in Galicia and Bukovyna then, in the 1920s, in Galicia, Volhynia and Transcarpathia. The organisation was banned by the Polish authorities in Volhynia in 1928, and in Galicia in 1930. From then until the Second World War Plast operated clandestinely in Galicia, and openly in some other European countries under the auspices of the Prague-based Union of Ukrainian Plast Emigrés.
In 1945 Plast was revived in post-war Germany and soon spread to other countries to which Ukrainian displaced persons had emigrated. In 1969 the organisation had 7,500 members around the world. In 1990 Plast was revived in Ukraine and Poland. In 2018 the world Conference of Ukrainian Plast Organisations comprised member organisations in Argentina, Australia, Canada, Germany, Great Britain, Poland, Ukraine and the USA, and small Plast groups were also active in Austria, Belgium, Estonia, Ireland, Latvia, Romania, Slovakia and Sweden.
Bibliography
'Persha Konferentsiia Plastovykh Vykhovnykiv v Londoni', Ukrainska Dumka (London), 8 April 1948, p. 3
Tysovskyi, O., 'Korotka istoriia Ukrainskoho Plastu', in Zhyttia v Plasti, 2nd edition (Toronto-Detroit, 1961), pp. 125-150
Tarnawsky, M. H., '20-littia Plastu u Vel. Brytanii', Ukrainske Slovo (Paris), 26 October 1969, p. 4
Starosolsky, Yu., 'Plast Ukrainian Youth Association', in Encyclopedia of Ukraine, volume IV (Ph-Sr), ed. by D. Husar Struk (Toronto, 1993), pp. 36-38
50-littia Plastu u Velykii Brytanii, ed. by O. Paraszczak (Lviv, 1999)
Paraszczak, O. 'Plast u Velykii Brytanii', in Almanakh 100-littia Plastu, editor-in-chief Yu. Leskiv (New York – Toronto – Lviv), pp. 202-211
Subtelny O., Plast: Ukrainian Scouting, a Unique Story (Toronto, 2016)