Vytvytsky, Stepan [Степан Витвицький] – lawyer, diplomat, active in political affairs; born on 13 March 1884 in the village of Uhornyky (Ivano-Frankivsk metropolitan area, Ukraine; at that time – Stanislav county, Austrian crown land of Galicia); died on 19 October 1965 in New York, USA; buried in St Andrew's Ukrainian Cemetery in South Bound Brook, New Jersey, USA.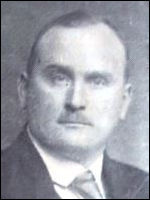 Vytvytsky studied at the universities of Lviv and, later, Vienna, where he gained a doctorate in law in 1910. From 1910 he practised as a lawyer in Drohobych. In 1915-1918 in Lviv he was on the editorial board of the Dilo newspaper, and in 1918 edited the Svoboda newspaper.
From November 1918 Vytvytsky was secretary of the Ukrainian National Rada of the Western Ukrainian People's Republic (ZUNR). After the union of the ZUNR with the Ukrainian People's Republic (UNR), which was proclaimed on 22 January 1919, he served with the UNR ministry of foreign affairs and led delegations representing the Western Province of the UNR at various international negotiations. In October 1920 he became a member of the ZUNR government in exile in Vienna with responsibilty for foreign affairs. From February 1921 to March 1923 he was head of the diplomatic missions of the ZUNR in Paris and London.
In 1924 he resumed his legal practice in Drohobych. He became a leading member of the Ukrainian National Democratic Alliance (UNDO), and in 1935-1939 represented UNDO in the Sejm (Diet) of the Polish Republic. In 1939 he emigrated to the West. In 1945 he was involved in the establishment of a representative body for Ukrainian émigrés in Germany and, in 1948, of the Ukrainian National Council (UNC). In 1949 he became deputy head of the UNC Executive Body, and in 1951 moved to the USA where he acted as its official representative. In 1954 he was elected head of the UNC Executive Body and president of the UNR in exile.
Bibliography
Vytvytsky, S., 'Halychyna v mizhnarodnii politytsi v 1914-1923 rr.', Ukrainskyi istoryk (New York), 32 (1995), pp. 100-118
Ukrainska Dyplomatychna Entsyklopediia, ed. by L. V. Huberskyi and others, 2 vols (Kyiv, 2004), vol. I, p. 205