Tscherny, Michael [Михайло Чорний (Черний)] – agricultural engineer, active in community affairs; born on 11 July 1887 on the Potichok khutir estate in the Poltava oblast (Ukraine; at that time – Russian Empire); died on 15 October 1983 in Reading, England, United Kingdom; buried in Henley Road Cemetery, Caversham, Reading.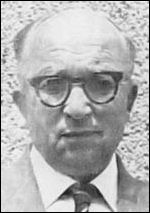 After attending primary school, Tscherny graduated from an agricultural college in the Kharkiv region. He subsequently studied at the infantry cadet corps in Chuhuiv, near Kharkiv, from which he graduated in 1911 as an officer in the Imperial Russian Army. During the First World War he was wounded in action. By 1917 he had attained the rank of captain and was serving as an adjutant in the XI Armoured Division. After the establishment of the Ukrainian government of Hetman Pavlo Skoropadskyi in April 1918 he joined the army of the Ukrainian State. Upon the fall of the government (December 1918) he emigrated to Germany.
In Germany he continued his agricultural studies, graduating as an agricultural engineer. He became a member of the Soiuz Hetmantsiv Derzhavnykiv hetmanite association and worked closely with Vladimir Korostovetz who, in the 1930s, was Pavlo Skoropadskyi's official representative in London. In May 1948 he was elected head of the executive committee of the Ukrainian branch of the Young Men's Christian Association (YMCA) in the British Zone of Occupation of Germany.
After the Second World War Tscherny moved to the United Kingdom. From 1950 to 1964 he worked in London as head of the social welfare section at the Head Office of the Association of Ukrainians in Great Britain. From the mid-1950s his responsibilities included matters relating to the immigration of Ukrainian women from Yugoslavia and Poland seeking marriage partners among Ukrainian men in the UK (see Ukrainians in the United Kingdom). For a while he served as the personal secretary of Danylo Skoropadskyj, leader of the hetmanite movement, who lived in England. After his retirement he lived for a time in Wales before moving to Reading.
Bibliography
Rys, L., 'Pomer inzh. Mykhailo Panasovych Chornyi', Vidomosti Yeparkhialnoho Upravlinnia UAPTs u Velykii Brytanii (London), 1983-84, no. 4-1 (236-7), p. 39