Paslawskyj, Wasyl [Василь Паславський] – priest of the Ukrainian Greek Catholic Church (UGCC), active in community affairs; born on 10 January 1895 in the village of Stanislavchyk, Sian region (Stanisławczyk, Przemyśl county, Subcarpathian voivodeship, Poland; at that time – Austrian crown land of Galicia); died on 9 August 1967 in Nottingham, England, United Kingdom; buried in Southern Cemetery, Nottingham.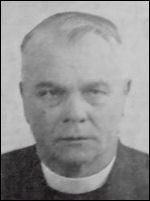 Paslawskyj attended primary school in his home village, and a gymnasium secondary school in Peremyshl, graduating in 1914. From 1914, during the First World War, he served in the Austrian army as a lieutenant and fought on the Italian front. From 1918 he served in the Ukrainian Galician Army (UGA) and took part in action to gain control of Peremyshl. After sustaining a wound he was treated in a hospital in Sambir. Later he was involved in the Chortkiv offensive, the retreat of the UGA across the River Zbruch, and its subsequent advance on Kyiv. During the army's retreat from Kyiv he contracted typhoid fever. In April 1920 he was with a brigade of the Red Ukrainian Galician Army which deserted the Red Army to unite with the Army of the Ukrainian People's Republic, but which was disarmed by Polish forces. He was subsequently interned in a camp in Dąbie (a suburb of present-day Kraków) and later in Tuchola in northern Poland.
In 1924 Paslawskyj returned to Stanislavchyk. There he organised a choir and a drama group with which he toured nearby villages. In 1926 he entered the Greek Catholic seminary in Peremyshl. After completing his studies, in April 1930 he was ordained a priest by Bishop Yosafat Kotsylovskyi. He began his career as a priest in the village of Pavlokoma in the Sian region, where he was also active in the local Prosvita society, serving for a time as head of its committee. In 1934 he was transferred to the village of Hrimne, near Komarno (now in Horodok raion, Lviv oblast), where he promoted the development of a Ukrainian identity among the last remaining Russophiles in the Komarno area. In 1935 he moved to Uhertsi Nezabytovski (now the village of Uhry, Horodok raion), where he served as assistant priest. Over the course of two years he was also active in community affairs. He organised a pre-school nursery, a drama group, a church choir and a secular choir; promoted the importance of striving for economic growth and prosperity; helped the villagers to establish a dairy and a co-operative society; frequently organised the performance of plays in the village hall (together with his sister Kateryna, a teacher); issued birth certificates in Ukrainian and disseminated literature on the history of Ukraine among the villagers, for which he was harrassed by the Polish authorities; and was constantly charitable towards less well-off villagers. In the autumn of 1937 he moved to the village of Vykoty near Sambir, where he served as a priest and was active in community affairs until 1944.
After Soviet forces broke through the front line in Western Ukraine in July 1944, the Rev. Paslavskyj left his parish, with the consent of the church authorities, and moved to Kraków, then to Silesia. There he was employed in a factory and also provided pastoral care to Ukrainian workers. After the German surrender he made for the West and reached Bavaria. For a short time he stayed in a Benedictine monastery, then moved to Regensburg. In the autumn of 1945 he became UGCC parish priest for the towns of Schliersee and Hausham in southern Bavaria, where there was a community of Ukrainian miners.
In December 1948 the Rev. Paslawskyj moved to the United Kingdom where he joined the clergy of the Ukrainian Catholic Church in Great Britain. Until October 1952 he served as an assistant priest in Bradford. From then until 1958 he was an assistant priest serving Nottingham and nearby towns. From December 1958 he was the parish priest for Halifax and the surrounding area (based in Bradford). After a period in 1961 during which he was unable to perform normal duties owing to ill health, he was appointed assistant priest in London. From December 1962 until his death he served as assistant priest (retired) in Nottingham and the surrounding area. He was an honorary counsellor of the Apostolic Exarchate for Ukrainian Catholics in England and Wales, and a member of the Association of Ukrainian Former Combatants in Great Britain.
Bibliography
'Yuvilei dushpastyria (vsech. o. Vasyl Paslavskyi)', Nasha Tserkva (London), 1960, no. 2, p. 23
Hrynakh, A., 'Vynohradnyk na robitnyka menshe', Nasha Tserkva (London), 1967, no. 4, pp. 34-36
Hrynakh, A., 'Znovu chervona kalyna pokhylylasia', Ukrainska Dumka (London), 14 September 1967, p.5
Hrynakh, A., 'Pamiati o. V. Paslavskoho', Khrystyianskyi Holos (Munich), 24 September 1967, p. 4
Potichnyi, P., Pavlokoma 1941-1945: Istoriia sela (Toronto-Lviv, 2001), pp. 156-157, 194-197
Zharovskyi, L., Uhry, Hortsi, Uhortsi (Uhertsi), Uhortsi Nezabytovski, Nezabytivka (Lviv, 2010), pp. 35, 36
Prakh, B., Dukhovenstvo Peremyskoi yeparkhii ta Apostolskoi administratsii Lemkivshchyny. Tom 1: Biohrafichni narysy (1939-1989) (Lviv, 2015), pp. 505-506