Nikitin-Solsky, Ewhen [Євген Нікітін-Сольський] – soldier; born on 7 January 1892 in Zhytomyr (Ukraine; at that time – Volyn gubernia, Russian Empire); died on 8 June 1960 in Huddersfield, England, United Kingdom; buried in Edgerton Cemetery, Huddersfield.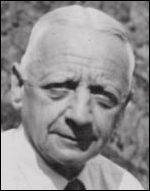 Nikitin-Solsky attended a military secondary school (cadet corps), then studied at a military college. During the First World War he served with the 10th Grenadier Division of the Imperial Russian Army, completing his service in the rank of captain. During 1919 he was a company commander, subsequently battalion commander, at the Zhytomyr Junior Officer School of the Army of the Ukrainian People's Republic (UNR). In early 1920 he became adjutant at the newly-established Kamianets-Podilskyi Junior Officer School. In November 1920, during the westward retreat of the UNR Army, he crossed into Poland where the School continued to function in internment camps. He remained at the School as adjutant, with the rank of lieutenant colonel, until at least mid-1921.
From 1921 or 1922 he lived for approximately four years in Stanyslaviv (now Ivano-Frankivsk), then worked in the oilfield at Bytkiv, near Nadvirna (Ivano-Frankivsk oblast). Until 1939, and subsequently in 1941-1943, he was manager of the oilfield's on-site transportation system. In 1926 he became head of the Bytkiv branch of the Ukrainian Central Committee in Poland (an organisation of emigrants from Central and Eastern Ukraine).
In 1943 Nikitin-Solsky enlisted in the Galicia Division, in which he served as a lieutenant. Shortly before the end of the Second World War he was appointed, with the rank of lieutenant colonel, to the staff of the newly-formed Ukrainian National Army, of which the Galicia Division became a part. During the surrender of the Division to the British Army in Austria, in May 1945, he was in a team of officers in command of one of three major columns of troops which made their way to internment camps in Italy. In the camp at Bellaria in which the Division was initially interned, he commanded, for a short time, one of the regiments into which it was organised, and after the Division's transfer to Rimini he headed the camp's construction and maintenance department.
In 1947 he was transferred with the Division to the United Kingdom. After his release from prisoner-of-war status in 1948, he settled in Huddersfield (Yorkshire) where he lived for the rest of his life. He worked at the engineering firm David Brown Industries, and was a member of the local branches of the Association of Ukrainians in Great Britain and the Assocation of Ukrainian Former Combatants. Drawing on his experience, and using his knowledge of English, he frequently helped other members of the local Ukrainian community in matters relating to their settlement in the UK.
Bibliography
Petriv, V., 'Zhytomyrska yunatska shkola (prodovzhennia)', Litopys Chervonoi Kalyny, Lviv, 1936, no. 7-8, p. 15
'Funeral of Lt.-Col. E. A. Nikitin-Solsky', Huddersfield Daily Examiner, 11 June 1960, p. 7
Veryha, V., Pid sontsem Italii (Toronto, 1984), pp. 23, 43, 45, 61, 152
Stetkevych, L., Yak z Berezhan do Kadry: spohad z dyvizii (Ternopil, 1998), pp. 198-200, 211-212, 214
Tynchenko, Ya., Ofitserskyi korpus Armii Ukrainskoi Narodnoi Respubliky (1917-1921). Knyha I (Kyiv, 2007), pp. 302-303
Maksymiuk, M., Naftovi kopalni Nadvirnianshchyny (Nadvirna, 2010), pp. 65-66