Moskalenko, Valentin [Валентин Москаленко] – surgeon and academic; born on 23 February 1898 in Vorozhba (Bilopillia raion; Sumy oblast, Ukraine; at that time – Sumy county, Kharkiv gubernia, Russian Empire); died on 6 February 1986 in Nottingham, England, United Kingdom; buried in Nottingham.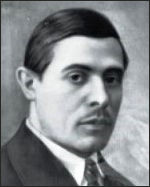 Moskalenko attended the No. 2 state grammar school in Nizhny Novgorod in Russia, and subsequently studied at the Military Medical Academy in Petrograd (now Saint Petersburg, Russian Federation) from which he graduated in 1921 with a Doctor of Medicine degree. He remained in the Academy until 1924 as a post-doctoral researcher and, subsequently, assistant lecturer, simultaneously working as a surgeon in the Academy's teaching hospital.
Returning to Ukraine, in 1925-1930 he lectured in surgery at the Dnipropetrovsk Institute of Medicine (now the Dnipropetrovsk Medical Academy) and worked as a surgeon in one of the city's hospitals. From 1931 to 1939 he was a professor and head of the Department of General Surgery at the Institute's teaching hospital. In 1939-1941 he was a professor and head of the Department of Surgery at the Kharkiv Institute of Medicine (now the Kharkiv National Medical University). Simultaneously, in 1940-1941, he was head of the surgical department of the Ukrainian X-Ray Radiography and Oncology Institute (now the Grigoriev Institute for Medical Radiology) in Kharkiv, and a consulting surgeon at military hospitals in Kharkiv and Izium. Between 1942 and 1944, during the German occupation of Ukraine, he worked as a senior surgeon at hospitals in, successively, Poltava, Myrhorod and Bar.
From April 1944 to early 1945 Moskalenko worked as an assistant surgeon at the Provincial Hospital in Troppau, Sudetenland (now Opava in the Czech Republic), and subsequently as a general practitioner and specialist in surgery in Stolberg (Harz), Germany. In 1946-1947 he lived in Göttingen, Germany, where there was a Ukrainian displaced persons camp. There he practised as a surgeon, served as medical inspector of the camp, gave first aid courses to the camp residents, and was a consulting surgeon with the Ukrainian Medical and Charitable Aid Organisation.
In 1947 Moskalenko moved to the United Kingdom. For a time in 1947-48 he taught English at the transit camp for European Voluntary Workers near West Wratting, Cambridgeshire. On 9 August 1948, he was registered to practise medicine in the UK. In the same year he was appointed senior house surgeon at Chase Farm Hospital in Enfield, north London, and a year later became resident surgical and medical officer at Enfield War Memorial Hospital. From 1952 to 1963 he was a resident surgical officer at the Scartho Road Infirmary in Grimsby, Lincolnshire. After this he moved to Nottingham. In his retirement he had a private practice and worked for a time at Louth County Hospital, Lincolnshire.
Between 1921 and 1941 Moskalenko authored approximately 60 articles, conference papers and book chapters, on a range of subjects including general surgery, surgical anatomy, traumatology, war surgery, neurosurgery, surgical oncology and other topics. He also wrote a coursebook on the ligature of arteries, published in Kharkiv in 1932. In the 1970s he published a number of short articles in International Surgery. His personal archive is deposited in the Manuscripts and Special Collections department of University of Nottingham Libraries.
Bibliography
Barannyk, S. I., Stus, V. P., 'Vnesok vchenykh-khirurhiv medychnoi akademii u rozvytok urolohii na Dnipropetrovshchyni (do 100-richchia kafedry zahalnoi khirurhii DZ "DMA MOZ Ukrainy"), Urolohiia (Dnipro), 2018, vol. 22, no. 2, p. 95