Mazurenko, Hala [Галя Мазуренко], née Boholiubova – poet, artist, teacher; born on 25 December 1901 in Saint Petersburg, Russia; died on 27 May 2000 in London, England, United Kingdom; buried in Highgate Cemetery, London.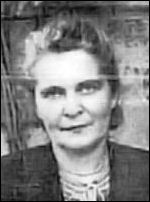 Mazurenko was the daughter of professor Serhii Boholiubov, an aristocratic descendant of a member of the Decembrist movement, and of Yelyzaveta Mazurenko, who was a doctor. In 1919 she completed her secondary education in Katerynoslav (now the city of Dnipro), where she lived after her parents' separation. There she also attended the art school run by the impressionist Viacheslav Koreniev. She was first inspired to write poetry on reading stories by the archaeologist and historian Dmytro Yavornytskyi. In 1916 she witnessed the Eastern Front of the First World War when visiting her uncle Semen Mazurenko, who worked for the All-Russian Union of Cities organising assistance for wounded soldiers in Proskuriv (south-western Ukraine). In 1919 she became a student at the department of history and philology at the University of Katerynoslav, but her studies were interrupted by the Ukrainian-Soviet War. She joined the Army of the Ukrainian People's Republic (UNR) as a courier. Later she described the events of this period in her autobiographical novella Ne toi kozak, khto poborov, a toi kozak, khto "vyvernetsia"... (A true Cossack not so much defeats the enemy as knows how to escape from his clutches; London, 1974). After the UNR Army's retreat westward she enrolled in the newly-established university at Kamianets-Podilskyi. There she met the political activist Sofiia Rusova, who was a lecturer at the university.
In 1920, as the UNR Army, under pressure from the Soviet forces, retreated further, Mazurenko crossed the river Zbruch into Polish-held territory. In exile she continued her studies at the universities of Warsaw and Berlin. From 1923 she lived in Prague where, in 1929, she received a doctorate from the Ukrainian Higher Pedagogical Institute. In 1944 she received a second doctorate from the Ukrainian Free University and subsequently lectured there in the department headed by the art historian Dmytro Antonovych. In the years up to and during the Second World War she also studied at the Ukrainian Academy of Plastic Arts (previously – Ukrainian Studio of Plastic Arts). In Prague she continued to write poetry and came into close contact with poets associated with the Vistnyk journal, such as Yevhen Malaniuk, Leonid Mosendz and others. Several collections of her poetry were published there: Akvareli (Watercolours, 1927), Stezhka (The Pathway, 1939), Vohni (Fires, 1939), Snihotsvity (Snow-flowers, 1941). Some of her works appeared in the Vistnyk and Proboiem journals and in other publications.
From 1945 she lived in London, where she continued to write and paint. In 1968-69 she taught Russian at Goldsmiths College, University of London. She attended sessions at an art studio founded by the Polish artist Marian Bohusz-Szyszko, and held art classes at her home. She also taught at the Ukrainian supplementary school run by the London branch of the Association of Ukrainians in Great Britain. In London she published the following poetry collections: Porohy (The Rapids, 1960), Kliuchi (Keys, 1969), Skyt poetiv (Poets' Retreat, 1971), Zelena yashchirka (The Green Lizard, 1971), Try misiatsi v literi zhyttia (Three Months in the Letter of Life, 1973) and Pivnich na vulytsi (Midnight on the Street, 1980). She illustrated most of her publications herself; others contain illustrations by pupils of the supplementary school, in particular Kytsia (The Kitten, 1971), Zolota Korona (The Golden Crown, 1972) and Osin (Autumn, 1973). Some of her works were translated into English and Polish, while others were set to music by the composer Fedir Yevsevskyi. Her works reflect her interest in Christianity, Eastern religions and theosophy. As both an artist and a poet she was interested in the potential for interaction between various art forms (music, painting, sculpture and poetry). She also believed in the therapeutic value of the arts for those suffering from depression.
Mazurenko was a member of the Union of Ukrainian Veterans in Great Britain (comprising mainly former personnel of the UNR Army). She was also a member of the Slovo Association of Ukrainian Writers in Exile, and in 1992 was admitted to the National Writers' Union of Ukraine. Exhibitions of her art were held in various locations, including the USA, Pakistan, Tunbridge Wells (England) and London (several times). In 2002 a collection of her poems (Vybrane) was published in Ukraine. In 2006 a collection of her poems translated into Czech by Alena Moravkova was published in Prague.
Bibliography
Mazurenko, H., Ne toi kozak, khto poborov, a toi kozak, khto "vyvernetsia"... (London, 1974)
Wasyluk, Ya., 'Interviu z Haleiu Mazurenko', Vitrage (London), 1978, no.5 (Autumn), pp. 27-30
Myronets, N., M. Chaban, '…Imia dushi tii – Ukraina". Biohrafichnyi narys', in Н. Mazurenko, Vybrane, ed. by N. Myronets (Kyiv, 2002), pp. 6-40
Yatsiv, R., 'Halia Mazurenko', Ukrainske mystetstvo XX stolittia: idei, yavyshcha, personalii: zbirnyk statei (Lviv, 2006), pp. 176-179