Andruszczenko, Uliana [Уляна Андрущенко] – teacher, active in community affairs; born on 4 July 1898 on a khutir estate near Zaporizhia (Ukraine; at that time – Oleksandrivsk, Katerynoslav gubernia, Russian Empire); died on 28 February 1986 in Derby, England, United Kingom; buried in Leicester.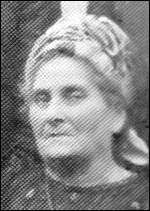 As a child Andruszczenko lived in the village of Kapulivka (Dnipropetrovsk oblast), where she attended primary school. She acquired an interest in archaeology while observing excavations being undertaken in the village by the historian Dmytro Yavornytskyi. In 1917 she graduated from a gymnasium secondary school in Zaporizhia. Then she enrolled at the University of Katerynoslav (now the city of Dnipro), but her studies were interrupted by the revolutionary events unfolding in Ukraine. Later she graduated from a teacher training college and worked until 1941 as a teacher in Kryvyi Rih. During the Second World War she left Central Ukraine and lived for a time in Western Ukraine. Travelling between various parts of the region she enhanced her knowledge of Ukrainian folk embroidery, in which she first became interested as a child. As the German-Soviet front line advanced she left for Prague, and then reached Germany. There she lived in displaced persons camps, including in Regensburg where she was active in the Union of Ukrainian Women in Emigration.
In 1948 Andruszczenko moved to the United Kingdom. She lived initially in Ludlow, and then in Kidderminster, where she worked in a carpet factory until her retirement. She subsequently moved to Leicester where she became active in the local branch of the Association of Ukrainian Women in Great Britain (AUW). In the years 1960-64 and 1966-73 she was a member of the AUW executive committee: deputy chair of the Association for two terms (1990-61 and 1963-64), and committee member responsible for promoting folk arts in the other years. In 1964-66 she was head of the AUW financial oversight committee. She played a major role in the popularisation of Ukrainian folk arts, especially embroidery, among Ukrainians in Great Britain, conducting embroidery courses and competitions, organising exhibitions and giving lectures in local communities around the country. In Leicester she established a collection of artefacts, on the basis of which a museum was opened in 1964 under the auspices of the AUW executive committee (transferred to Manchester in 1971 and named the Alla Horska Museum). In 1963 she became a member of the newly-formed Curatorial Board of the Taras Shevchenko Library and Museum (now the Shevchenko Library and Archive) and was elected to the Board's executive committee. For two years she was a member of the executive committee of the Association of Ukrainian Teachers in Great Britain. She was also active in the Ukrainian Autocephalous Orthodox Church in Great Britain. From September 1972 until almost the end of her life she lived at the Kobzarivka residential home near Derby, run by the Association of Ukrainians in Great Britain.
Bibliography
Vidrodzhennia na chuzhyni: 15-littia dialnosty OUZh u Velykii Brytanii (1948-1963), ed. by H. Ses and N. Marchenko (London, 1967), pp. 45-63, 114-116
'Znavets nar. mystetstva', Nashe Zhyttia (Philadelphia), 1972, no. 2, p. 22
Marchenko, N., 'U pamiat Uliany Andrushchenko', Ukrainska Dumka (London), 27 March 1986, p. 4
Ostapiuk, A., 'Na svizhu mohylu Uliany Andrushchenko', Ukrainska Dumka (London), 1986, no. 18-19 (Easter), p. 6