The Ukrainian Review – a quarterly English-language journal of Ukrainian affairs.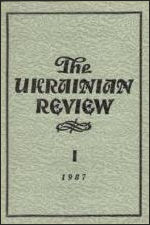 The journal was founded by the Association of Ukrainians in Great Britain (AUGB) as the successor to the Ukrainian Observer news bulletin published by the Ukrainian Information Service (UIS). Over 170 issues appeared between December 1954 and Spring 1999, with, usually, 96 pages per issue.
Until 1966 the journal was published solely by the AUGB, and thereafter jointly with the US-based Organization for the Defense of Four Freedoms for Ukraine (ODFFU) and the Canadian League for Ukraine's Liberation (1967-1989), then with the ODFFU and the Canada-based Ucrainica Research Institute (1989-1994), and finally with the Ucrainica Research Institute. The editorial board included residents of the UK and of other countries. Its office was located initially at the AUGB head office and subsequently, from 1967, at the premises of the UIS.
The aim of the journal, as stated in the first issue, was to serve as a link between the Ukrainian and English-speaking worlds. The journal contained articles relating to Ukraine's history, culture and economy, and the struggle for Ukrainian independence. It also included reports on events in Ukraine and in the Ukrainian diaspora, documents on current affairs pertaining to Ukraine, book reviews, translations of Ukrainian poetry and other material.
Initially the journal's editors were Volodymyr Derzhavyn and Vasyl Oreletsky (1954-1956); V. Derzhavyn, V. Oreletsky and Slava Stetsko, (1957-1961); V. Oreletsky, Rostyslav Yendyk and S. Stetsko (1962-1963); and V. Oreletsky, S. Stetsko and Volodymyr Mykula, pen name Bohdaniuk (1963-1966). Thereafter the editors-in-chief were V. Oreletsky (1967-1975), S. Stetsko (1976-1997) and Stepan Oleskiw (1997-1999).