Szumowski, Peter [Петро Шумовський] – paediatrician, tuberculosis specialist, amateur historian; born on 27 June 1902 in the village of Myrohoshcha (Dubno raion, Rivne oblast, Ukraine; at that time – Dubno county, Volyn gubernia [Volhynia], Russian Empire); died on 8 March 1966 in Dartford, England, United Kingdom; buried in North Sheen Cemetery, London. Brother of Arsen Shumovsky.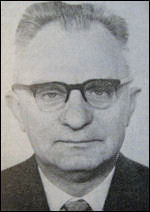 Szumowski began his gymnasium secondary school education in Dubno. During the First World War, together with his mother, brothers and sisters, he moved to the village of Storozheve in the Tambov gubernia (Russia) and was later resettled in Volchansk, near Kharkiv (Ukraine). He subsequently returned to Volhynia, where he continued to study at the Dubno gymnasium, and then moved to Ostroh, where he attended the Ostroh gymnasium. After completing his gymnasium education he studied for a time at the University of Kyiv (where he stayed at the home of Prof. Dmytro Doroshenko, who was at that time a minister in the government of the Ukrainian People's Republic).
Returning to Myrohoshcha (which came under Polish rule in March 1921), he became involved in local community and cultural affairs. He subsequently left for Germany and enrolled in the Christian Albrecht University in Kiel. In 1927 he gained a Doctor of Medicine degree, defending a dissertation on The diagnostic significance of changes in blood count after the injection of tuberculin in children. He then moved to Denmark, where he worked as an assistant lecturer in the faculty of medicine at the University of Copenhagen, specialising in paediatrics. Later, he returned to his homeland and worked for a time as a doctor in Volhynia and Polissia. In 1930 he obtained recognition of his medical degree at the Jagiellonian University in Kraków. Thereafter, in Warsaw, he underwent specialist training in paediatrics and the treatment of tuberculosis. From 1932 he worked as an assistant physician at the University of Warsaw Children's Hospital and for the Kasa Chorych public health insurance service, and from 1936 as director of the Tuberculosis Dispensary in Warsaw. In 1939, soon after being called up to the Polish Army as a military physician, he was taken prisoner of war by the Germans, but after a short while was released. He returned to Warsaw, where he continued to practise as a doctor, also acting as head of the health section of the local Ukrainian relief committee.
In 1944 he was deported to Austria, where he worked in the anti-tuberculosis (BCG) vaccination department of the Vienna University Children's Hospital, and in a Ukrainian clinic in Vienna. After the end of the Second World War he became director of the Polish Tuberculosis Hospital at the Ebensee displaced persons camp. Subsequently, in Italy, he joined the Polish II ('Anders') Corps under British command as chief medical officer of the tuberculosis hospital in Arco, in the province of Trentino.
In 1946 he came to the UK. For a second time he obtained recognition of his medical degree, and in April 1947 was registered to practise in the UK. He worked as a physician at tuberculosis hospitals and chest units in various parts of the country, including Wrightington (Lancashire), Liphook (Hampshire), Black Notley (Essex) and Thurrock (Essex); in the latter two hospitals he was a registrar. In 1953 he became deputy medical superintendent at the Middleton Hospital tuberculosis sanatorium near Ilkley, West Yorkshire. In 1954 he became Executive Medical Officer at the Royal Sea Bathing Hospital for children in Margate, Kent. In addition to his administrative functions he undertook the treatment of tuberculosis, including (from 1961) by surgical means.While in this post (until his death in 1966) he was actively involved in the reorganisation of the hospital, where new orthopaedic, urological and chest departments were being established at a time when tuberculosis was in decline.
In addition to his professional work, Szumowski's interests included philosophy, the arts and, especially, history. He wrote a book outlining the history of the town of Ostroh, the earliest Ukrainian cultural centre in his home region of Volhynia (Ostrih: A Historical Outline [Ostrih: Istorychnyi narys], Margate-Winnipeg, 1964). He also published an article on N. F. S. Grundtvig and folk high schools in Denmark (N. F. S. Gruntvig ta vysoki narodni shkoly v Danii; Literaturno-Naukovyi Visnyk, 1927) and pamphlets entitled The diuretic effects of mineral water from the Karol source in Iwonicz-Zdrój (Wpływ wody ze źródła "Karola" w Iwoniczu na diurezę; 1934, in Polish) and The Orthodox Faith and the Ukrainian People (Vira pravoslavna i narid ukrainskyi; 1941).
Bibliography
'D-r Petro Shumovskyi', Likarskyi Visnyk (New York), 1966, no. 3-4, p. 50-51
M. B., 'Sv. pam. D-r Petro Shumovskyi', Litopys Volyni (Winnipeg), 1966, no. 8, p. 89
'P. Szumowski, M. D.' [obituary], British Medical Journal (London), 16 April 1966, p. 989
'Petro Shumovskyi' [obituary], Novi Dni (Toronto), 1966, no. 195, p. 31
'Posmertna zghadka' [Petro Shumovskyi], Ukrainska Dumka (London), 21 April 1966, pp. 7-8
Voitovych, S., Ya. Bondarchuk, 'Petro Shumovskyi (1902-1966)', in Ostrozki prosvitnyky ХVI–ХХ st. (Ostroh, 2000), pp. 203-208