Stakhovsky, Mykola [Микола Стаховський] – doctor, diplomat, active in community and political affairs; born on 22 May 1879 in the village of Stetkivtsi (Zhytomyr oblast, Ukraine; at that time – Volyn gubernia, Russian Empire); died on 7 December 1948 in Prague, Czechoslovakia; buried in Olšany Cemetery in Prague.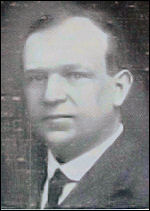 In 1904 Stakhovsky obtained a degree in medicine from Warsaw University. During the 1904-1905 Russo-Japanese War he served with the Red Cross in the Manchurian city of Mukden (now called Shenyang). In 1906 in Kyiv he published Borotba, an official periodical publication of the Ukrainian Social Democratic Workers' Party. In 1906-1908 he continued his medical studies in Paris and then practised medicine in Ukraine, mainly in Vinnytsia in 1909-1914 and, in 1914-1917, in Proskuriv (renamed Khmelnytskyi in 1954). In May 1917, after the February Revolution in the Russian Empire and the establishment of the Ukrainian Central Rada, he was appointed provincial commissioner of the Ukrainian gubernia of Podillia.
On 28 January 1919 Stakhovsky was appointed to serve as the first head of the diplomatic mission of the Ukrainian People's Republic in London, where he arrived in May 1919. He remained in this post until September 1919, when he resigned owing to ill health.
After leaving London, Stakhovsky resumed his medical career, initially working in Paris (1920-1922) and Berlin (1922-1923). In 1924-1939 he practised in Berehovo (then part of Czechoslovakia, now in the Transcarpathia oblast of Ukraine), where he was also a prominent figure in Ukrainian community life, and in 1939-1945 in Rumburk, Czechoslovakia.
Bibliography
A. M., 'D-r Mykola Stakhovskyi (Posmertna zghadka)', Ukrainski Visti (Neu-Ulm), 7 April 1949, p. 4
Rozhin, I., 'D-r Mykola Stakhovskyi', Likarskyi visnyk (Chicago), vol. XII, no. 1(36), (January, 1965), pp. 32-44