Perebyjnis, Vasyl [Василь Перебийніс] – painter, graphic artist, stage designer; born on 1 January 1896 in the village of Mali Puzyrky (Krasyliv raion, Khmelnytskyi oblast, Ukraine; at that time – Zaslav county, Volyn gubernia [Volhynia], Russian Empire); died on 13 November 1966 in London, England, United Kingdom; buried in Gunnersbury Cemetery, London.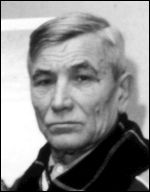 In 1910-1913 Perebyjnis took lessons in an art school attached to the Lavra monastery in Pochaiv, and in 1913-1915 he studied at the Kyiv School of Art. In 1915 he enrolled in the Saint Petersburg Academy of Arts (Russia), but was soon called up to the Imperial Russian Army. After taking a course in military topography he worked on the production of maps for the army. In late 1916 he was assigned to a unit in Berdychiv (Ukraine) but, while breaking his journey in Kyiv, he deserted from the army. In 1918, together with painter and stage designer Anatolii Petrytskyi, he decorated the interior of the Grotesk Theatre, and also produced stage designs for the Molodyi Teatr and other theatre groups. He took part in an exhibition entitled Indyvidualisty held in the Alexander Museum (1917) and in an exhibition of works by artists from Right-Bank Ukraine held in the St. Volodymyr University of Kyiv (1918). In 1918 he began to study at the Ukrainian State Academy of Arts, but within a short time enlisted in the Army of the Ukrainian People's Republic (UNR).
In November 1920, together with the retreating UNR Army, he crossed into Poland and was interned. In the spring of 1921 he passed the entrance examination for the Kraków Academy of Fine Arts. Before commencing his studies in the autumn he spent several months in Ternopil, where he organised and ran an art course at the local teacher training college, and also produced décor for the Narodnyi dim Ukrainian cultural centre and scenery for local theatre groups. During his years of study in Kraków he designed scenery for the Bagatela Theatre and a puppet theatre, and also produced various posters. For a private client he made copies of stained glass windows by Stanisław Wyspiański installed in Kraków's Franciscan Church. In 1925 he produced décor for a Day of Ukrainian Culture in Kraków.
In May 1926 Perebyjnis graduated from the Kraków Academy and was awarded an overseas travel grant. After visiting art galleries around Europe (in Czechoslovakia, Austria, Yugoslavia, Italy, Monaco and France), in the 1928/29 academic year he undertook further study at the Paris Branch of the Kraków Academy. After that he decided to remain in Paris. There he made the acquaintance of a group of young French painters and was given a two-year contract by the owner of the «Atelier Français» gallery. In 1928-1929 he designed and painted the décor of two villas owned by wealthy Parisians. Solo exhibitions of his works were held in the Galerie de Paris, Galerie Zak and Galerie Marseille, and he also exhibited at various salons: the Salon d'Automne (1928, 1935), Salon des Indépendants (1930-1932) and Salon des Tuileries. He was a member of the "Paris Group of Ukrainian Artists" and of the Association des Artistes Ukrainiens à Paris (active in 1928-1931), and collaborated with the Association of Independent Ukrainian Artists (ANUM) in Lviv. His works were included in the "Ukrainian Group" exhibition (Galerie Studio 28, 1930), "Paris Group of Ukrainian Artists" exhibitions (Paris and Lviv, 1932-1933), an exhibition by Russian artists (Gallery Zak, 1930), the first ANUM exhibition in Lviv (1931), an exhibition in the Girchman Gallery (April 1931), and an exhibition of works by artists of the "École de Paris" in London. In 1938 a solo exhibition of his works was held in the Ukrainian National Museum in Lviv with the active support of Metropolitan Andrei Sheptytskyi. Perebyjnis painted portraits (including those of figures from the Ukrainian diaspora), landscapes and still life, produced décor for shop and theatre façades, and designed theatre, concert and film sets. He also produced modern frescoes for a church in the Boulevard de l'Hôpital in Paris, and designed a monument to agricultural workers erected in 1941 in the Ariège département near Toulouse. For the Ukrainian pavilion at the 1937 Paris International Exposition he designed the décor of the Ukrainian press hall and produced a monumental map of Ukraine. Whilst in Paris he often met with young Ukrainian artists who visited the city and assisted them in various ways.
In 1942 Perebyjnis was held by the Gestapo on a Paris street and deported to Berlin, where he worked as a forced labourer. In 1945-1947 he lived for a while in Weimar and then in the Lysenko Ukrainian displaced persons camp in Hannover. In the camp he organised, directed and taught in an arts and crafts school whose curriculum included drawing, painting, embroidery, toy-making and decorative sculpture. He also taught art and technical drawing in the Oleksandr Oles camp-based gymnasium secondary school.
In 1947 he moved to the United Kingdom and initially settled in Coventry, where he worked in a factory. From March 1948 to March 1949 he was a member of the Governing Council of the Association of Ukrainians in Great Britain, and in November 1950 he was elected to the parish council of the Ukrainian Autocephalous Orthodox Church in Coventry. He subsequently moved to London, where he worked until his retirement. The money he earned allowed him to purchase a small property in which he set up a studio. During his life in the United Kingdom he produced 160 paintings, many drawings and 75 sketches, including a series of paintings depicting English scenes (Brighton seascape, Thames river bank, ruins of Holland House in London, various garden scenes, scenes of Coventry, and of Holland Park, Chiswick and Hyde Park in London, and others).
In 1955 Perebyjnis wrote to the former Ukrainian National Museum in Lviv (now the Andrei Sheptytskyi National Museum in Lviv) requesting the return of works which he exhibited in 1938, but it subsequently transpired that about 270 of his works held by the Museum had been destroyed or lost in 1952. He wrote a memoir about the Kraków Academy of Fine Arts (London, 1956) and published an autobiographical work (London, 1963). In accordance with his will, his widow presented some of his works to the Soviet Embassy in London for transfer to Ukraine. An exhibition of the works in question took place in the late 1960s in Kyiv and, in 1970, 32 of his paintings were deposited in the State Museum of Ukrainian Art (now the National Art Museum of Ukraine) where they remain.
Bibliography
Kosach, Yu., 'Hostyna v Passy i V. Perebyinis', Nazustrich (Lviv), 15 August 1937, pp. 3-4
Kosach, Yu., 'Vasyl Perebyinis', Ukrainska Trybuna (Munich), 9 February 1947, p.5
Perebyjnis, V., 'Akademiia mystetstv u Krakovi', Vyzvolnyi Shliakh (London), 1956, no. 2, pp. 203-209 (cont. in no. 3, pp. 311-318; no. 4, pp. 426-430)
Fedenko, P., 'Za maliarskym stankom (rozmova z Vasylem Perebyinosom), Vilne Slovo (Augsburg), 9 April 1960
Perebyjnis, V., Zhyttia i tvorcha pratsia ["Monohrafiia"] (London, 1963)
Perebyjnis, V., Kataloh vystavky 1964 r. (London, 1964)
Jenkala, M., 'Vasyl Perebyinis', Mystetski studii (Lviv), 1993, no. 2-3, pp. 38-40
Susak, V., Ukrainski mysttsi Paryzha: 1900-1939 (Kyiv, 2010), pp. 161-164, 384
Amelina, L., 'Khudozhnyk Vasyl Perebyinis: povernennia iz zabuttia', Obrazotvorche mystetstvo (Kyiv), 2010-2011, no. 4-1, pp. 52-53
Posatska, D., 'Vasyl Perebyinis – ukrainskyi mytets z Paryzha', Halytska brama (Lviv), 2011, no. 7-8, pp. 24-26