Dublanycia, Myroslava [Мирослава Дубляниця], née Vytvytska – active in community affairs; born on 15 June 1896 in the village of Havrylivka (Nadvirna raion, Ivano-Frankivsk oblast, Ukraine; at that time – Nadvirna county, Austrian crown land of Galicia); died on 11 September 1988 in Toronto, Ontario, Canada; buried in Park Lawn Cemetery, Toronto.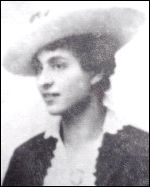 Myroslava Dublanycia graduated from teacher training college in Prague. For a time she lived in Kolomyia where she was active in the Moloda Hromada youth organisation and was involved in events relating to the November 1918 Ukrainian uprising in eastern Galicia. From the mid-1920s she lived in Peremyshl where she played an active role in the Union of Ukrainian Women and other local Ukrainian organisations. In 1934 she took part, as a delegate from Peremyshl, in the Congress of Ukrainian Women held in Stanyslaviv (now Ivano-Frankivsk). In the summer of 1944, as the Red Army was advancing from the east, she left Peremyshl with her family. After staying briefly in Poznań, Vienna and Linz she crossed into Germany. Following the end of the Second World War she lived in a displaced persons camp and was active in the post-war Association of Ukrainian Women in Germany.
In 1948 (possibly in late 1947) Dublanycia moved to the United Kingdom and settled in Nottingham. She was head of the local branch of the Association of Ukrainians in Great Britain from December 1948 to January 1950, and head of the Association of Ukrainian Women in Great Britain from March to September 1949.
In April 1953 she emigrated to Canada and settled in Toronto, where she became active in the Ukrainian Catholic Women's League of Canada.
Bibliography
Vidrodzhennia na chuzhyni: 15-littia dialnosty OUZh u Velykii Brytanii (1948-1963), ed. by H. Ses and N. Martschenko (London, 1967), pp. 16-17
Nacherk istorii Ligy Ukrainskykh Katolytskykh Zhinok Kanady Torontskoi Eparkhii, ed. by Ya. Vynnytska (Toronto, 1975), pp. 34, 37, 40, 44, 50, 60, 68, 164, 318
Dublanycia M. 'Lystopadovi dni v Kolomyi', in Kolomyia i Kolomyishchyna: zbirnyk spomyniv i statei pro nedavne mynule, ed. by B. Romanenchuk (Philadelphia, 1988), pp. 752-753
V. Ya., 'U dobru pamiat Myroslavy Dublianytsi', Svoboda (Jersey City - New York), 11 January 1989, p. 4