Lukianenko, Anton [Антін Лук'яненко] – psychiatrist, active in community affairs; born on 19 December 1891 in Velyka Burimka (Chornobaiv raion, Cherkasy oblast, Ukraine; at that time – Zolotonosha county, Poltava gubernia, Russian Empire); died on 28 March 1974 in Rochdale, England, United Kingdom; buried in Rochdale Cemetery. Married Maria Lukianenko.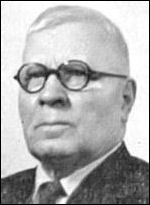 From 1907 to 1911 Lukianenko trained as a medical assistant (feldsher) in Poltava, and from 1911 to 1914 he worked in this capacity in the Zolotonosha zemstvo. During the First World War he underwent military service as a medical assistant in an engineering depot in Poltava, often performing the duties of a doctor. During the revolutionary events of 1917 he moved to Dubno in Volhynia, where he established literacy classes for Ukrainian soldiers and was head of the Ukrainian committee at the military engineering depot. In May 1917 he was a delegate at the First All-Ukrainian Military Congress in Kyiv. In 1918, after completing a course on the running of co-operatives, he worked at the Central Ukrainian Agricultural Co-operative Union in Kyiv. In the same year he also enrolled in the Faculty of Natural Sciences of the University of Kyiv, but soon had to interrupt his studies. From the autumn of 1918 he lived briefly in Zhmerynka and in Proskuriv (now the city of Khmelnytskyi), and subsequently became head of the district hospital and infirmary for infectious diseases in Chornyi Ostriv, аnd then the district hospital in Sharivka (both villages in the Khmelnytskyi oblast).
In 1921 Lukianenko enrolled in the Kyiv Institute of Medicine, where he studied until 1926 (defending a dissertation on "Various methods of treating stomach ulcers and their consequences"). After obtaining his degree he worked as an occupational health doctor with the railways in Kyiv, and later gained additional qualifications in neurology, psychotherapy and physiotherapy. In 1931 he qualified as a specialist and became director of a psychiatric hospital in Dnipropetrovsk (now the city of Dnipro). Later he was transferred to the Vinnytsia psychiatric hospital. In 1933 he gained further qualifications in pathological anatomy and physiology at the Odesa Institute of Medicine. Returning to Vinnytsia, he continued to work at the psychiatric hospital and also as a consultant neuropathologist in the main health centre in Vinnytsia. In 1932-33 he established a special vitamin deficiency unit at the psychiatric hospital, for the treatment of patients exhausted by starvation. In the autumn of 1941 he became head of the Vinnytsia psychiatric hospital. In February 1942 he became a reader (docent) at the Department of Psychiatry at the Vinnytsia Institute of Medicine, and in December of the same year was promoted to professor and head of the Department. After the Institute was closed in the autumn of 1943 by the occupying German authorities he continued to work as the chief physician at the psychiatric hospital.
In December 1943 Lukianenko left Vinnytsia for Galicia where, from March to September 1944, he was a professor of psychiatry at the Lviv Institute of Medicine. After that he moved to the Lemko region where he worked for a short time as a doctor in Krynytsia (Polish: Krynica-Zdrój) and in the village of Mokhnachka Nyzhnia (Polish: Mochnaczka Niżna). He then made his way, via Slovakia, to Vienna where, on behalf of the Ukrainian Relief Committee, he established a health centre for refugees. Later he worked as a doctor in the municipality of Bürmoos near Salzburg. Before the end of the Second World War he moved to Bavaria, where he stayed in displaced persons (DP) camps at Rosenheim. There he established a branch of the émigré Ukrainian Red Cross organisation and a walk-in clinic for Ukrainian refugees. In the autumn of 1945 he moved to Karlsfeld where he worked as a consultant in a health centre. He also lecturered in anatomy and microbiology at a veterinary college in Munich. In 1946-47 he was head of the Department of Anatomy at the Ukrainian Technical and Husbandry Institute in Munich, and gave lectures on hygiene in shops at a DP camp-based school of commerce in Mittenwald. He was the head of a sports co-ordinating body for the DP camps (November 1945 to September 1946) and gave lectures in anatomy and physiology for sports instructors. He also treated patients in DP camps and local sanatoria.
In March 1948 Lukianenko emigrated to the United Kingdom. For the first three months he worked in a non-medical capacity at a psychiatric hospital in Dorchester, and then moved to Rochdale. In December 1948 his degree was recognised by the General Medical Council, though, because of his age and insufficient knowledge of English, he did not resume medical practice. Instead, he devoted his time to various activities within the Ukrainian community (alongside which he continued his research into non-surgical methods of treating stomach ulcers, which he began while still a medical student). In the summer of 1948 he became a member of the Rochdale branch of the Association of Ukrainians in Great Britain (AUGB), and he headed a committee responsible for organising the purchase of a centre for the branch. He was also a member of the AUGB regional council for the Manchester area (which existed in 1948-51). In 1950, together with his wife, he set up, at his home, the first Ukrainian Saturday pre-school nursery in the UK. In 1954 in Bury he led a training course for Ukrainian pre-school nursery teachers, at which he gave lectures on child psychology. He also wrote a booklet on this subject, Psykholohiia dytiachoho viku: porady vykhovatelkam-sadivnychkam (London, 1957). He was a member of the AUGB Governing Council (1958-60 and 1962-67), head of the AUGB Tribunal (Mediation Committee) (1949-51 and 1961-62) and head of the AUGB Finance Control Committee (financial oversight committee) (1960-61). He was a member of the British section of the Ukrainian Christian Movement (UCM), chairman of the Rochdale branch of the UCM, head of the financial oversight committee of the UCM in GB, and a member of the UCM general council. He wrote articles for the Ukrainska Dumka, Khrystyianskyi Holos and Shliakh Peremohy newspapers. A supporter of the monarchist hetmanite movement, he was head of the financial oversight committee of the Ukrainian Hetmanite Organisation (Soiuz Hetmantsiv Derzhavnykiv) in Great Britain.
His main academic interests included the treatment of schizophrenia and hydrocephalus, physiotherapy as a treatment for psychiatric disorders, the use of malarial toxins in the treatment of progressive paralysis, psychosis in the elderly, and simulation in psychiatric and nervous illnesses. He was the author of several unpublished academic papers.
Bibliography
Marchenko, I., '70-littia prof. d-ra A. I. Lukianenka', Ukrainska Dumka (London), 21 December 1961, p. 4
'Prof. d-r Antin Lukianenko (u 72-hi rokovyny narodzhennia)', Likarskyi Visnyk (New York), 1964, no. 32, pp. 58-61
Hanitkevych, Ya., 'Antin Lukianenko – ukrainskyi psykhiatr i nevropatoloh', in Ukrainski likari-vcheni pershoi polovyny XX stolittia ta yikhni naukovi shkoly (Lviv, 2002), pp. 457-465