Scotland [Шотландія] – the second largest of the constituent countries of the United Kingdom of Great Britain and Northern Ireland, occupying the northern third of the island of Great Britain and numerous offshore islands.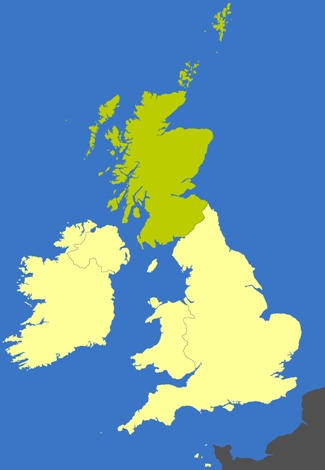 Scotland
England
Wales
Northern
Ireland
Republic of
Ireland
Scotland is bordered to the south by England. Area – 77,925 sq. km; population – 5.4 million (2017). Capital city – Edinburgh.
The Scottish Parliament, established in 1998, passes legislation in all matters relating to Scotland apart from reserved matters in which the power to legislate is retained by the United Kingdom Parliament. Scotland has its own legal system – Scots law.
In the eighteenth century Semen Desnytskyi, a Ukrainian economist and lawyer, studied at Glasgow University. A significant number of the Ukrainians who came to the UK as a result of the Second World War initially resided in Scotland, where they were employed mainly in agriculture. Subsequently, however, most of them resettled in various industrial centres in England, and no more than around 1,000 remained in Scotland. Organised Ukrainian communities emerged in Edinburgh, Glasgow, Dundee and Galashiels. Some post-independence migrants from Ukraine to the UK have settled in Scotland.