Northern Ireland [Північна Ірландія] – the smallest of the constituent countries of the United Kingdom of Great Britain and Northern Ireland, occupying the north-eastern part of the island of Ireland and sharing a border with the Republic of Ireland.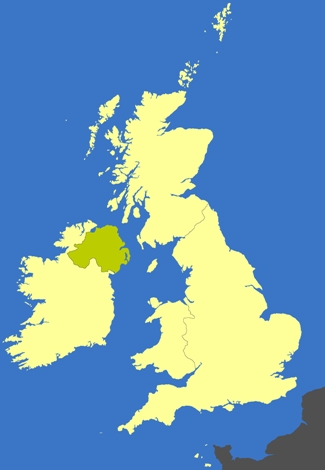 Scotland
England
Wales
Northern
Ireland
Republic of
Ireland
Area – 13,576 sq. km; population – 1.9 million (2017). Capital city – Belfast.
The Northern Ireland Assembly, restored in 2007, passes legislation in all matters relating to Northern Ireland apart from reserved matters in which the power to legislate is retained by the United Kingdom Parliament. The country has its own legal system – Northern Ireland law.
Until the 1990s there was no significant Ukrainian presence in Northern Ireland, athough some Ukrainians did live there. Some post-independence migrants from Ukraine to the UK have settled in Northern Ireland.