England [Англія] – the largest and most populous of the constituent countries of the United Kingdom of Great Britain and Northern Ireland, occupying the central and southern parts of the island of Great Britain and a number of offshore islands.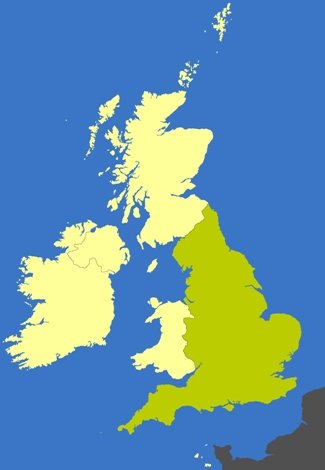 Scotland
England
Wales
Northern
Ireland
Republic of
Ireland
England is bordered by Scotland to the north and Wales to the west. Area – 130,281 sq. km; population – 55.6 million (2017), which represents 84% of the population of the United Kingdom. Capital city – London.
England does not have its own legislative body: legislation relating to England is passed by the UK Parliament. English law is the legal system of both England and Wales.
Most Ukrainians who have migrated to the UK over time have settled in England. Almost half of those who arrived during or immediately after the Second World War settled in towns and cities in two northern regions (as defined by the present division of England into administrative units): the North West (Manchester, Ashton-under-Lyne, Bolton, Rochdale, Oldham etc.) and Yorkshire and The Humber (Bradford, Halifax, Huddersfield, Leeds etc.); around 30% settled in two central regions: the East Midlands (Nottingham, Leicester, Derby, Lincoln etc.) and the West Midlands (Coventry, Wolverhampton, Stoke-on-Trent, Rugby etc.); about 25% in the eastern and southern regions: the East of England (Waltham Cross, Peterborough, Bedford, Luton etc.), the London Region, the South East (Reading, Slough etc.) and the South West (Gloucester, Swindon, Cheltenham etc.). Very few post-war migrants settled in the North East. Most of the post-independence migrants from Ukraine to the UK, possibly more than half, have settled or found temporary homes in or around London, with smaller numbers in other regions of England.