"First wave" – the earliest wave of migration from Ukraine, which began towards the end of the nineteenth century and continued until the outbreak of the First World War. Several hundred Ukrainians came to Britain at this time and settled in Manchester, where they established the first Ukrainian community in the United Kingdom.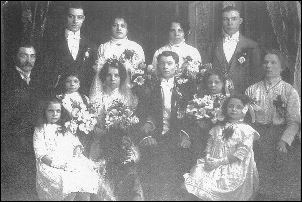 The earliest migrants arrived in the 1890s from the Austrian crown land of Galicia. While en route to North America they reached Liverpool, from where they planned to sail across the Atlantic. At this point, however, their journey ended: some apparently could not afford the cost of the onward journey, while others were persuaded to stay by East European workers already in the area. The Ukrainians settled mainly in Manchester where they found employment, especially in tailoring enterprises owned by East European Jews with whom they could readily communicate. The migrants sent home some of their earnings and encouraged relatives and friends to join them in England. As a result, the Manchester Ukrainian community grew in size.
In 1912 there were some 500 Ukrainians in Manchester, mainly from the Peremyshliany and Zolochiv districts of the present-day Lviv Region of Ukraine. Around 200 were from the village of Pidiarkiv in the Peremyshliany district, but by the beginning of the First World War they had either emigrated to North America or returned to Galicia. After the war yet more returned home and only about a hundred Ukrainians remained in Manchester. In 1933 the community numbered about 150, including children born in the UK. During each of the two world wars, those Ukrainians who had arrived before the 1914-1918 war were deemed to be "enemy aliens" on account of their Austrian citizenship, and some were detained in internment camps, mainly on the Isle of Man. After the arrival in the UK of large numbers of Ukrainians during and after the Second World War, Manchester became home to one of the largest post-war Ukrainian communities in Britain.
The "first wave" Manchester Ukrainians founded the Samopomich society in 1919, the Ukrainian Social Club in 1929 and the Ukrainian Relief Committee in Great Britain in 1945.
Bibliography
Ukrbiuro, London, 'Ukrainska koloniia v Manchester', Svoboda (Jersey City), 8 May 1933, p. 1
Vilkhovyi, P., 'Ukrainska hromada v Manchester', Nash Klych (London), 30 May 1946, p. 3
Dzioba, V. 'Relihiino-tserkovne zhyttia pershykh ukraintsiv u Manchesteri', Nasha Tserkva (London), 1953, no. 5 (7), p. 4; no. 8 (10), p. 4
Slipyj, Y., 'Podorozh do Anglii', Tvory Kyr Yosyfa verkhovnoho arkhyiepyskopa i kardynala, tom V, comp. by I. Choma and Yu. Fedoriv (Rome, 1971), pp. 309-310
Panchuk, G. R. B., Heroes of Their Day: The Reminiscences of Bohdan Panchuk, edited and with an Introduction by L. Y. Luciuk (Toronto, 1983)
Nebesniak, Ye., Z Chervonoi Kalyny na Chervonu Rozhu: do stolittia poselennia ukraintsiv u Manchesteri, Velykobrytania: 1897-1997 (Rome-Lviv-Manchester, 1997)